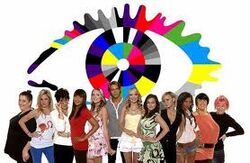 Big Brother is a British reality television game show in which a number of contestants live in an isolated house for several weeks, trying to avoid being evicted by the public with the aim of winning a large cash prize at the end of the run.
It is the British version of the Dutch Big Brother television format, which takes its name from the character in George Orwell's 1949 novel Nineteen Eighty-Four. The British version was originally broadcast on the Channel 4 Network on Channel 4.
Related Shows
Edit
Ad blocker interference detected!
Wikia is a free-to-use site that makes money from advertising. We have a modified experience for viewers using ad blockers

Wikia is not accessible if you've made further modifications. Remove the custom ad blocker rule(s) and the page will load as expected.