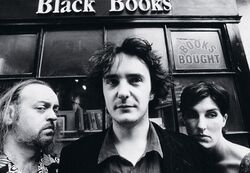 Black Books is a British sitcom created by Dylan Moran and Graham Linehan that was broadcast for the Channel 4 Network on Channel 4 from 2000 to 2004.lack Books was a critical success, winning a number of awards‒including two BAFTA awards for Best Situation Comedy in 2001 and 2005 and a Bronze Rose at the Festival Rose d'Or‒and being called "a hugely popular series" by The Times.
Bernard Black is the proprietor of his small bookshop, Black Books. The series revolves around the lives of Bernard, Manny, and Fran. A central theme is Bernard's odd position as a belligerent and openly hostile shopkeeper who has a loathing of the outside world and all the people who inhabit it, except his oldest friend, Fran, who initially ran a trendy bric-a-brac shop, Nifty Gifty, next-door to the shop.
Bernard displays little enthusiasm or interest in retail (or, indeed, anything outside drinking, smoking, and reading) and actively avoids having to interact with anyone, even inside his shop, as he has a personal dislike of his customers, treating his bookshop more like a personal library. It is suggested that Fran and Bernard once slept together, but now they remain happy to be friends, sharing a love of smoking heavily and drinking to excess. Fran otherwise has a rather hopeless love life.