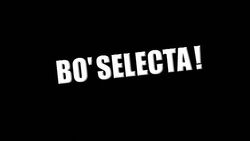 Bo' Selecta! is a British sketch show written and performed by Leigh Francis, known for its often surreal, abstract toilet humour, which lampoons popular culture.It was broadcast on the Channel 4 Network on Channel 4 and ran for three series between 2002 and 2004, spawning several spin-offs.
Francis played Avid Merrion, a dangerously insane stalker, who conducts celebrity interviews whilst wearing an array of latex masks; each one resembling at least vaguely a famous personage.
The most popular sketches involve entertainers such as Elton John, David Blaine, Kelly Osbourne, Michael Jackson, Mel B and Craig David. Another recurring character on the show is 'the Bear', a perverted, foul-mouthed teddy who spews a constant barrage of filth at his guests, often before exposing himself. The series title is based on a line from the Artful Dodger and Craig David song "Re-Rewind."