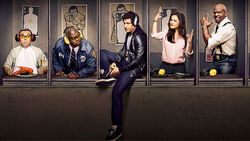 Brooklyn Nine-Nine is an American action comedy television series that airs on Fox. Set in the fictional 99th Precinct of the New York City Police Department in Brooklyn, the single-camera series follows a precinct team of detectives and a newly appointed captain. It premiered on September 17, 2013, as part of the 2013–14 American television season. The series' premiere garnered 6.17 million viewers. It is shown on E4 in the united Kingdom.
Starring Andy Samberg, Andre Braugher, and Terry Crews as a diverse group of New York City police detectives who must adjust when a new "by-the-book" boss takes over.
Ad blocker interference detected!
Wikia is a free-to-use site that makes money from advertising. We have a modified experience for viewers using ad blockers

Wikia is not accessible if you've made further modifications. Remove the custom ad blocker rule(s) and the page will load as expected.