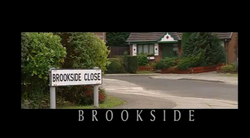 Brookside was a British soap opera set in Liverpool, England. The series began on the launch night of Channel 4 on 2 November 1982, and ran for 21 years until 4 November 2003.
Brookside differed from other soap operas because it was filmed in real, brand-new houses, in a real cul-de-sac, situated off Deysbrook Lane in the North West city of Liverpool.
Built by Broseley Homes, the houses were custom built in an attempt by the producers to add to the show's realism. In early 1982, Mersey Television, with Phil Redmond at the helm, bought thirteen houses altogether, six of which would be seen on-screen as sets. The remaining seven properties housed administration, post production and canteen facilities for the cast and crew.
Phil Redmond was particularly enthusiastic about purchasing an entire 'close' of houses, partly as a means of achieving the desired realism of Brookside, but also in order to maintain total control of his creation.
Ad blocker interference detected!
Wikia is a free-to-use site that makes money from advertising. We have a modified experience for viewers using ad blockers

Wikia is not accessible if you've made further modifications. Remove the custom ad blocker rule(s) and the page will load as expected.