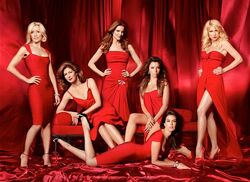 Desperate Housewives is an American television dramedy-mystery series created by Marc Cherry and produced by ABC Studios and Cherry Productions. It aired on ABC from October 3, 2004 to May 13, 2012. It was broadcast in the United Kingdom on the Channel 4 Network, broadcast by Channel 4.
On a sunny day in the loveliest of suburbs, in a town called Fairview, housewife Mary Alice Young killed herself. Now she takes us into the lives of her family and neighbors.
Her girlfriends are Susan, a known klutz who recently remarried the love of her life, Lynette who struggles with her family and career, Bree the owner of a catering business and the ex-model turned housewife Gabrielle...