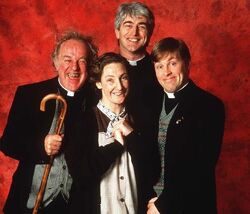 Father Ted is a sitcom that was produced by Hat Trick Productions for the Channel 4 Network, broadcast on Channel 4. An Irish-British co-production, written jointly by Irish writers Arthur Mathews and Graham Linehan and starring a predominantly Irish cast, it originally aired over three series from 21 April 1995 until 1 May 1998, including a Christmas special, for a total of 25 episodes.
The show follows the misadventures of three Roman Catholic priests who live in a parish on the fictional Craggy Island, located off the west coast of Ireland. Father Ted Crilly, Father Dougal McGuire and Father Jack Hackett live chaotically together in Craggy Island's parochial house, along with their housekeeper Mrs Doyle, who often wants to serve them tea.
The three priests answer to Bishop Len Brennan, who has banished them to Craggy Island as punishment for different incidents in their past.
The show revolves around the priests' lives on Craggy Island, sometimes dealing with matters of the church but more often dealing with Father Ted's schemes to either resolve a situation with the parish or other Craggy Island residents, or to win games of one-upmanship against his arch-nemesis, Father Dick Byrne of the nearby Rugged Island parish.