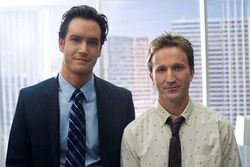 Franklin & Bash is an American drama-comedy television series created by Kevin Falls and Bill Chais. The series stars Breckin Meyer and Mark-Paul Gosselaar as unconventional lawyers and longtime friends.
Overview
Edit
Jared Franklin and Peter Bash are two streetwise plaintiffs' attorneys. After defeating Damien Karp of the prestigious law firm Infeld & Daniels, LLC (colloquially "Infeld Daniels"), they are recruited by co-founder and managing partner Stanton Infeld to breathe new life into the ailing firm with the duo reminding Stanton of his early days with his partner the late Daniels. By disturbing the 'Zombie Corporate Culture' of big law firms. Assisting Franklin and Bash is Carmen Phillips, an ex-convict out on parole who assists with background investigations on cases, and Pindar Singh, a brilliant, agoraphobic attorney and classmate of theirs.
In agreeing to work for Infeld Daniels, Franklin and Bash were guaranteed that they would still be taking on the same kind of cases as before, only with the backing of a major law firm. Over the course of their cases Franklin and Bash, through their courtroom antics, prove to be effective advocates for their clients, much to the chagrin of Damien Karp and his ex-girlfriend fellow attorney Hanna Linden.
Unbeknownst to the titular duo, Karp and Linden have been clandestinely stockpiling files on the team in the hopes that enough infractions will motivate Infeld to fire them. However after assisting Franklin & Bash in military court, Linden deleted the entire file, however due to digital copies never been deleted off servers, failed to hide the file from the NY firm partners.
The duo later learn their hiring was a move by Infeld to protect the firm from a leveraged buyout by any firm, particularly Franklin's father's firm, Franklin and Franklin. Although the pair feel understandably manipulated, the team still work to save Infeld Daniels from the attempted takeover. Infeld arrives at their house offering his regrets about the lie.
Starting in Season 3's "Coffee and Cream" the firm gets renamed Infeld, Daniels, and King LLC, with the hiring/buying in of Rachel King. A lawyer who previously worked years ago with Karp and humiliated Franklin and Bash on national television. Infeld hired her in hopes to restore some of the lost corporate culture with the changes Franklin and Bash brought in with their own hiring.