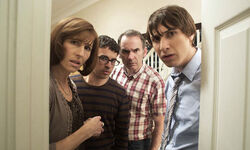 Friday Night Dinner is a British television sitcom written by Robert Popper and starring Tamsin Greig, Paul Ritter, Simon Bird, Tom Rosenthal and Mark Heap.The comedy is focused around the regular dinner experience of an English Jewish family (the Goodmans) on each Friday night.
The show was broadcast on the Channel 4 Network, on Channel 4.
Ad blocker interference detected!
Wikia is a free-to-use site that makes money from advertising. We have a modified experience for viewers using ad blockers

Wikia is not accessible if you've made further modifications. Remove the custom ad blocker rule(s) and the page will load as expected.