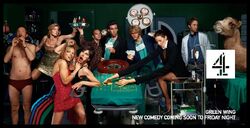 Green Wing is a British sitcom set in the fictional East Hampton Hospital. It was created by the same team behind the sketch show Smack the Pony, led by Victoria Pile, and stars Tamsin Greig, Stephen Mangan and Julian Rhind-Tutt. It was originally broadcast on Channel 4.
Green Wing's plot revolves around the lives of the staff of the East Hampton Hospital Trust, an NHS hospital with staff ranging from the slightly unusual to the completely bizarre.
The series begins with a new arrival, surgical registrar Caroline Todd (Tamsin Greig). Caroline suffers from constant embarrassment and misfortune, stumbling from one crisis to the next due to a mixture of her own indecisiveness, clumsiness, and general bad luck. Caroline works alongside two other doctors: Guy Secretan (Stephen Mangan), a half-Swiss, womanizing anesthetist, and "Mac" Macartney (Julian Rhind-Tutt), a charming, effortlessly cool surgeon. It is not long before Caroline begins to develop feelings for both of them, though she is unsure as to which of the two she truly loves.
Throughout the series, it becomes clear that Mac is her true love, but a range of disasters prevent their relationship from flourishing. Other people Caroline meets include Martin Dear (Karl Theobald), a well-meaning house officer who is constantly failing his exams. He is unloved by his mother and is often bullied by Guy. Martin soon develops feelings for Caroline, and begins to fall in love with her. There is also Angela Hunter (Sarah Alexander), a seemingly-perfect, but irritating, senior registrar in pediatrics. Whilst Angela appears to mean well, Caroline cannot stand her and despite her best efforts to avoid Angela, she ends up as Caroline's lodger.