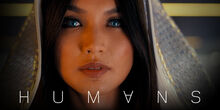 Humans is a British-American science fiction television series, debuted in June 2015 on Channel 4 and AMC. The series, which will consist of eight episodes, was produced in conjunction with Channel 4 and Kudos. It is written by Sam Vincent and Jonathan Brackley and based upon the original Swedish sci-fi drama, Real Humans.
Set in suburban London, the story takes place in a parallel present where the latest must-have gadget for any busy family is a Synth – a highly developed, artificially intelligent servant eerily similar to its living counterpart. It explores three different scenarios: Dr George Millican, a previous scientist mechanical engineer for the Synths, who can't part with his outdated Synth, Joe, who brought Anita the Synth into the family home, much to the annoyance of his unknowing wife, Laura, and Leo, a mysterious fugitive on the run to track down someone from his past. The series explores the emotional impact of the blurring of the lines between humans and machines.
External Links
Edit
Ad blocker interference detected!
Wikia is a free-to-use site that makes money from advertising. We have a modified experience for viewers using ad blockers

Wikia is not accessible if you've made further modifications. Remove the custom ad blocker rule(s) and the page will load as expected.