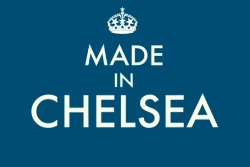 Made In Chelsea is is a structured reality television series that is broadcast by E4 in the United Kingdom and on Style in the United States. Essentially, the characters play scripted versions of themselves in the wealthy Chelsea district of London and is similar in style to ITV2's The Only Way Is Essex.
The structured nature of the show forces a redefinition of the term "reality television" to the extent that the cast are not "true" actors as the show follows the lives of several real, young, affluent Chelsea socialites.[1] Made in Chelsea is mostly shot in the West London areas of Belgravia, Kings Road, and Knightsbridge as well as occasionally featuring other locations such as Dubai, Finland, and the south of France.
Ad blocker interference detected!
Wikia is a free-to-use site that makes money from advertising. We have a modified experience for viewers using ad blockers

Wikia is not accessible if you've made further modifications. Remove the custom ad blocker rule(s) and the page will load as expected.