The topic of this page has a wikia of it's own: Misfits Wiki.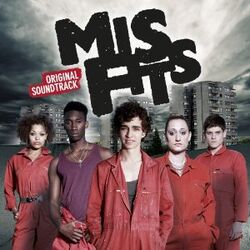 Misfits is a British science fiction comedy-drama television show about a group of young offenders sentenced to work in a community service programme, where they obtain supernatural powers after a strange electrical storm.
The first series started broadcasting on 12 November 2009 on E4, and was produced by Clerkenwell Films.
Misfits follows five young delinquents on community service who are caught outside during a supernatural thunder storm and subsequently acquire special abilities. Initially, the show focused on five young adults.
Kelly Bailey (Lauren Socha) gains the ability of Telepathy, Curtis Donovan (Nathan Stewart-Jarrett) can rewind time after experiencing an immense sense of regret, Alisha Bailey (Antonia Thomas) sends people into a sexual frenzy when they touch her skin and Simon Bellamy (Iwan Rheon) can become invisible. Nathan Young (Robert Sheehan) appears unchanged.