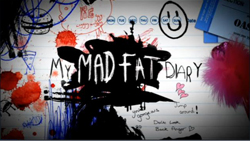 My Mad Fat Diary is a six-part British television series that debuted on E4 on 14 January 2013. It is based on "My Fat, Mad Teenage Diary" written by Rae Earl.
Set in Lincolnshire in 1996, My Mad Fat Diary follows the story of 16 year old, 16 stone Rae, who has just left a psychiatric hospital, where she has spent four months.
She begins to reconnect with her best friend, Chloe, who is unaware of Rae's mental health and body image problems, believing she was in Paris for the past four months. Rae attempts to keep this information from her while also trying to impress Chloe's friends Izzy, Archie, Chop and Finn.
Ad blocker interference detected!
Wikia is a free-to-use site that makes money from advertising. We have a modified experience for viewers using ad blockers

Wikia is not accessible if you've made further modifications. Remove the custom ad blocker rule(s) and the page will load as expected.