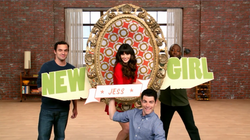 New Girl is an American sitcom television series that premiered on Fox on September 20, 2011. The series revolves around offbeat teacher Jess (Zooey Deschanel) after her moving into an L.A. loft with three men, Nick (Jake Johnson), Schmidt (Max Greenfield), and Winston (Lamorne Morris); Jess's best friend Cece (Hannah Simone) and old-turned-new loftmate Coach (Damon Wayans, Jr.) also appear regularly. The show combines comedy and drama elements as the characters, who are in their early thirties, deal with maturing relationships and career choices. The series' fourth season premiered on September 16, 2014.
Ad blocker interference detected!
Wikia is a free-to-use site that makes money from advertising. We have a modified experience for viewers using ad blockers

Wikia is not accessible if you've made further modifications. Remove the custom ad blocker rule(s) and the page will load as expected.