The topic of this page has a wikia of it's own: skins Wiki.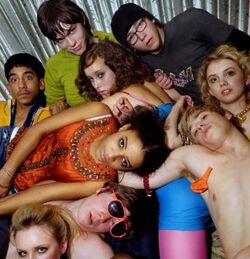 Skins is a BAFTA Award–winning British teen drama that follows the lives of a group of teenagers in Bristol, South West England, through the two years of sixth form. Its controversial storylines have explored issues such as dysfunctional families, mental illness (such as eating disorders), adolescent sexuality, substance abuse and death.
The show was created by father-and-son television writers Bryan Elsley and Jamie Brittain for Company Pictures, and premiered on E4 on 25 January 2007.[2] The show went on to be a critical success as well as a ratings winner within its target demographic. As an ongoing drama series, Skins is atypical in that it replaced its primary cast every two years.
Ad blocker interference detected!
Wikia is a free-to-use site that makes money from advertising. We have a modified experience for viewers using ad blockers

Wikia is not accessible if you've made further modifications. Remove the custom ad blocker rule(s) and the page will load as expected.