The topic of this page has a wikia of it's own: Spaced Wiki.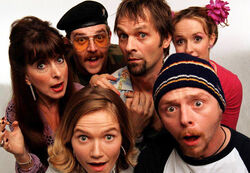 Spaced is a British television sitcom written by and starring Simon Pegg and Jessica Stevenson, and directed by Edgar Wright. It is noted for its rapid-fire editing, frequent pop culture references and jokes, eclectic music, and displays of surrealism and non-sequitur humour.
Two series of seven episodes each were broadcast in 1999 and 2001 on the Channel 4 Network on Channel 4, and were re-aired early in 2011 on both More4 and Dave.