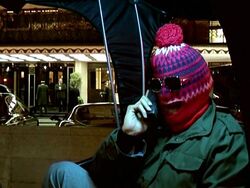 Fonejacker is a British comedy programme broadcast on E4, part of the the Channel 4 Network, featuring a series of prank calls involving a number of different characters performed by British Iranian television actor Kayvan Novak. It first appeared in May 2006 and became a full series in 2007.
The first series began in the UK on 5 July 2007 on E4 and lasted 6 episodes. A second series began on 17 September 2008 on E4, and started on Channel 4 on 6 November 2008. Kayvan Novak said that he was "not sure there will be a third series of Fonejacker" but despite this, several websites reported in October 2009 that a third series would air in May 2010.
Ad blocker interference detected!
Wikia is a free-to-use site that makes money from advertising. We have a modified experience for viewers using ad blockers

Wikia is not accessible if you've made further modifications. Remove the custom ad blocker rule(s) and the page will load as expected.