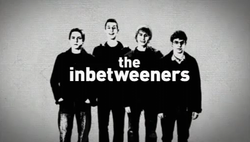 The Inbetweeners is a British sitcom which aired for three series from 2008 to 2010 on the Channel 4 Network on E4.
The show follows the life of suburban teenager Will McKenzie (Simon Bird), and three of his friends at the fictional Rudge Park Comprehensive. The script for the show is of a very adult nature and includes frequent use of extreme expletives and derogatory terms of a sexual nature.
There is a skilfully crafted environment for the show involving typical, almost cliched, situations of school bullying, broken family life, indifferent school staff and ridiculous (largely failed) sexual encounters.
Ad blocker interference detected!
Wikia is a free-to-use site that makes money from advertising. We have a modified experience for viewers using ad blockers

Wikia is not accessible if you've made further modifications. Remove the custom ad blocker rule(s) and the page will load as expected.