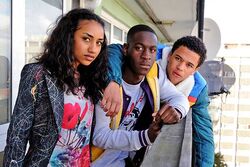 Youngers is a British comedy drama series created by Benjamin Kuffuor and Levi David Addai. It began airing on E4 on 20 March 2013. It is produced by Big Talk Productions. The series has been picked up for international distribution by BBC Worldwide.
The series follows a group of south-east London teenagers aiming to become the next big thing on the urban music scene. It opens with Yemi (Ade Oyefeso) and Jay (Calvin Demba) on their way to school to collect their GCSE results.
After collecting the results, Yemi finds out he has had straight A's, whilst Jay receives poor grades. Jay then receives a leaflet about a local music competition, and pays to go and perform at the competition. At the reception, a grumpy receptionist soon enlists them as 'youngers', on the performers sheet.
They deliver an excellent performance, and slowly, rise to the top of the music charts. Yemi adds his secret-crush Davina to their group, who loves Jay. Getting managed by their good friend Ash, the Youngers slowly make their way to the top of the music charts in London, however, higher they get, more problems emerge. Slowly, the group starts to fade away, as Jay and Davina get into a secret relationship to hide things from Yemi.